What is Savage Borderlands?
Savage Borderlands is the adaptation of the Borderlands videogame universe to the Savage Worlds Deluxe table top roleplaying game rules.
It draws its inspiration from Borderlands, Borderlands 2, Borderlands: The Pre-Sequel! and Tales from the Borderlands. At the moment, Savage Borderlands is more focused on playing during or just after the events of Borderlands 2, but you can play almost anything that exists in these four games.
Savage Borderlands is a technical adaptation. Although it tries to be very faithful to the videogames universe's lore, there is no real background content (I'd like to add some, but I'm trying to be as fair as possible towards Gearbox Software's IP).
Rulebook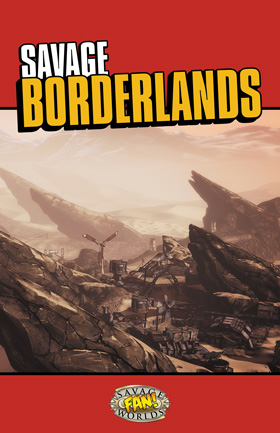 Download
Version 1.0.1en
High Quality PDF for screens
22Mb
See changelog
Character sheets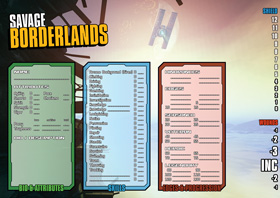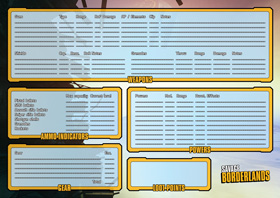 Download
4 versions.
Marcus' Manual to Proper Overcompensation
Download
Game Aids for Savage Borderlands
12Mb (zipped)
Borderlands
All rights to Borderlands belong to Gearbox Software and Take-Two Interactive.
Savage Worlds
This game references the Savage Worlds game system, available from Pinnacle Entertainment Group at www.peginc.com. Savage Worlds and all associated logos and trademarks are copyrights of Pinnacle Entertainment Group. Used with permission. Pinnacle makes no representation or warranty as to the quality, viability, or suitability for purpose of this product.
Illustrations
Images and illustrations used in this book and on this website belong to Gearbox Software and Take-Two Interactive. Most of the screenshots are the creations of jim2point0, -One3rd- and PulseZET. See at the end of this book for more details about who has done what.